I started a new project, I create a Art BJD Wasp and shoot a video of the whole process.
On my YouTube channel, you can see how I assembled the plastic parts of the doll with an elastic band, painted the head and chest.

In order not ... Read more »
Discount:Sale, 20% off
Active since:Nov 21, 2021 10:00 AM—Dec 2, 2021 8:00 AM
Podiceps auritus bird soft sculpture
Bird in width with spread out their wings: 28 sm (11,02 inch), with folded wings: 8,5 cm (3,35 inch); height 23 cm (9,05 inch), length 28 cm (11,02 inch).
... Read more »
Dr. Benjamin Crow Anthropomorphic Unique Handmade Furry Art Doll OOAK waiting for resettlement!
Approximately 12,6 inch (32cm) tall standing.

100% Hand made!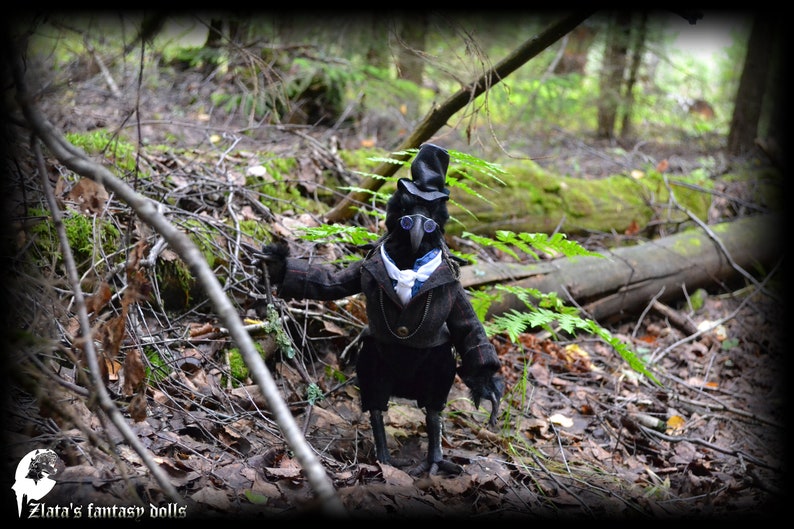 ! The head, feet are hardened clay and could be damaged if mishandled or d ... Read more »
Mandrake cat Toy,

Stuffed fantasy Animal, Fantasy creature, Artist Handmade Teddy
100% handmade - made by hand, no machine sewing!
----------------------------------------------------
Description:
Mandrake cat is 11,4 inches (29 cm) tall, and seated ... Read more »
I would like to suggest that you sew a non-traditional hare with movable legs fastened with threads and buttons. Such a hare can be sewn from any materials: viscose, plush, vintage plush, fleece, velvet, any dense fabric.
Difficulty: medium Materials: fabric, sewing thread, filler, eyes 2, buttons on the leg 4. As well as needles, scissors, chalk, pencil.
See the full master class here!
... Read more »
Victorian Gothic Toy, Stuffed Animal, Artist Handmade Teddy
... Read more »
A small video tutorial on wood burning.
Happy viewing!
Art BJD Gnome Morel Mushroom man.
Description:
Fantasy Art BJD Gnome Morel Mushroom is a one of a kind original piece of artwork.

The doll is made of high quality plastic.
The gnome man consists of 19 plastic par ... Read more »