Want to make a Druid Dress for a 1/6 12" BJD doll? I'll show you how easy and fast it is!
This is a step-by-step video tutorial on how to make this dress for dolls from scratch with my dress pattern.


The instructions in video are in English and Russian, so they are easy to understand.
Sew a dress for a doll only with our hands without using a sewing machine.


Digital download Included:
... Read more »
Hello everyone! In this video I make a wig for a my new witch BJD doll size 1/6.
For the scale 1/6 , to make the wig look realistic, I use handmade color Alpaca fibers. They are very thin and fall off when dyed, so the hair must be carefully combed before use.
I make the base for the wig from wet wipes glued in several layers.
First, we protect the doll's face with a film, or in this case I used a rubber glove. Then we put on a wet wipe, plaster it with glue and again a wet wipe and so o ... Read more »
Happy New Year 2022 to all my subscribers and guests!
May the new year be happier than the previous one!
Thank you for your support, comments and likes!
In 2021, I did not work much on my fantasy creatures, but traditionally I will show the results of the year!
Description:
Fantasy Art BJD Wasp Queen is a one of a kind original piece of artwork.
The doll is made of high quality plastic.
Bee Lady consists of 22 plastic parts. Details of the doll are assembling on black elastic.The surface of plastic parts is covered with shiny elements and flock according to the author's technique. All shiny elements are part of the doll.

Height 21 cm ( 8,27 inch). Wing length 17 cm ( 6,7 inch)
The wings ... Read more »
I started a new project, I create a Art BJD Wasp and shoot a video of the whole process.
On my YouTube channel, you can see how I assembled the plastic parts of the doll with an elastic band, painted the head and chest.
... Read more »
Discount:Sale, 20% off
Active since:Nov 21, 2021 10:00 AM—Dec 2, 2021 8:00 AM
Podiceps auritus bird soft sculpture
Bird in width with spread out their wings: 28 sm (11,02 inch), with folded wings: 8,5 cm (3,35 inch); height 23 cm (9,05 inch), length 28 cm (11,02 inch).
... Read more »
Dr. Benjamin Crow Anthropomorphic Unique Handmade Furry Art Doll OOAK waiting for resettlement!
Approximately 12,6 inch (32cm) tall standing.

100% Hand made!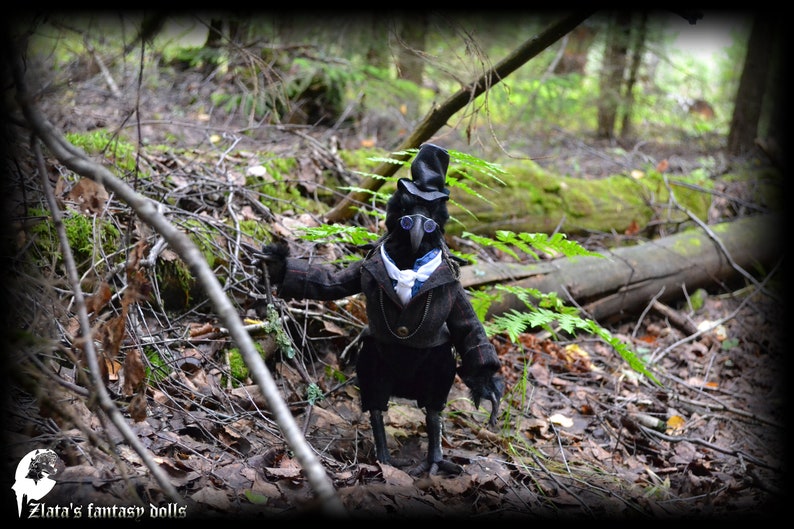 ! The head, feet are hardened clay and could be damaged if mishandled or d ... Read more »
Mandrake cat Toy,

Stuffed fantasy Animal, Fantasy creature, Artist Handmade Teddy
100% handmade - made by hand, no machine sewing!
----------------------------------------------------
Description:
Mandrake cat is 11,4 inches (29 cm) tall, and seated ... Read more »
I would like to suggest that you sew a non-traditional hare with movable legs fastened with threads and buttons. Such a hare can be sewn from any materials: viscose, plush, vintage plush, fleece, velvet, any dense fabric.
Difficulty: medium Materials: fabric, sewing thread, filler, eyes 2, buttons on the leg 4. As well as needles, scissors, chalk, pencil.
See the full master class here!
... Read more »